A recent phone conversation with my beloved grandfather turned into an unexpected exploration of the rich tapestry of American folklore. Enjoy.
Grandfather:
"Ok, so I have two things to tell you. First, if you're ever feeling blue, pull up and listen to 'Stagger Lee,' by Lloyd Price. Oh, it's a really neat, fun song. Just a really neat song. 
Now. Does the name Hank Ballard ring a bell? He sang The Twist. You know the song and the dance. Well, he wrote that song, came out with the record, and nothing really came of it. And just a few years later, I want to say around 1960; Chubby Checker came out with his own version of The Twist. It sounded just like Hank Ballard's version, but for some reason, people just went crazy for it. I never understood the reasoning behind that.
(Side note: After reading on the subject, I learned that this version was so astronomically successful because Chubby Checker used the song to teach the world a new dance of the same name.)
Oh, and by the way, about Chubby Checker. You know Fats Domino, of course. Well, Chubby Checker really liked the name and did his own thing with it.
Have you ever heard Fats Domino speak? Gosh, it was hard to understand what he was saying when he spoke. But when he sang? His words were clear as a bell.
Well, make sure you listen to Stagger Lee. Don't forget. And then The Twist. I love you."
A Brief History of Stagger Lee – Song & Myth
After listening to Stagger Lee on repeat a few times, reading the lyrics, and doing a quick Google search to discover a treasure trove of American folklore, I found myself irresistibly drawn into a fascinating journey. Lost in the depths of a Wikipedia rabbit hole, I joined the ranks of countless others captivated by this tale.
So, get this:
Over 400 artists have recorded versions of this song since the first recording in 1923.
A quick Google search of "Stagger Lee" reveals recordings by Ma Rainey, James Brown, Nick Cave, The Clash, Neil Diamond, Pat Boone, Fats Domino, Bob Dylan, Duke Ellington, The Grateful Dead, Elvis Presley, Beck, the Black Keys, Ike & Tina Turner, Amy Winehouse, and many others.
The tale of Stagger Lee and Billy Lyons has become a legendary American folk story. It has been retold countless times, with variations on why Stagger Lee shot Billy Lyons, ranging from disputes over a Stetson hat, a woman, a gambling debt, politics, or simply because "Stag" Lee was known to be a formidable and ruthless individual. He was, after all, a pimp.
Everybody knows the fate of poor Billy Lyons, but who was Stagger Lee, known by different names depending on the storyteller—Stag, Stagger, Stack-O-Lee, Stackalee, and so on? Was there a real Stagger Lee? Did he really run with Jesse James, possess a magical Stetson hat, or wrestle control from the devil upon his death, as some stories suggest?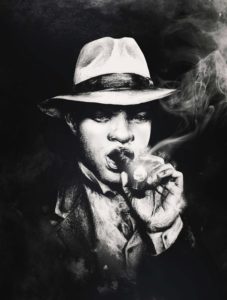 Gentleman's of the jury, what do you think of that?

Stack O' Lee killed Billy de Lyon about a five-dollar Stetson hat.

— Mississippi John Hurt
Told and Retold: The Turn-of-the-Century Shooting That Inspired a Thousand Songs
The origins of this tale can be traced back to a fateful Christmas night bar fight in downtown St. Louis, Missouri, in 1895. Amidst the vibrant atmosphere of the Bill Curtis Saloon, two acquaintances, William "Billy" Lyons and "Stagger" Lee Shelton, found themselves immersed in a night of revelry and libations.
Shelton, well known locally as one of the Macks–an ostentatious group of pimps known for their flamboyant attire (cue the $5 Stetson hat)—commanded attention wherever he went.
Lyons, too, had ties to the St. Louis underworld and, according to various accounts, may have been a political and business rival to Shelton.
As the liquor flowed and the dice rolled, a spirited discussion on politics escalated between the two men.
Eyewitnesses say Billy grabbed Stagger's Stetson hat.
The bartender said he heard Billy call Stagger a cockeyed son of a bitch—a remark that struck a nerve, given Shelton's distinctive crossed left eye.
And then, Stagger shot Billy in the abdomen with a .44 Smith & Wesson, reclaimed his hat, and left.
Shortly after, Lyons succumbed to his wounds.
That same night, five murders were committed in St. Louis, but only one gained worldwide infamy due to its entanglement with politics, folklore, and persistent retellings.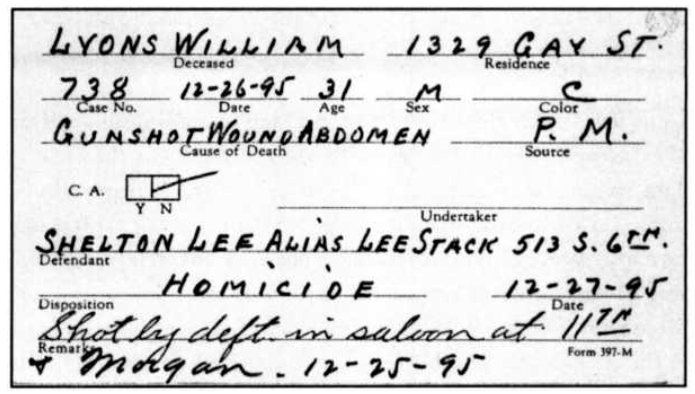 The story was first covered in the St. Louis Globe-Democrat on December 28, 1895.
In 1896, the political climate was highly charged, and with St. Louis being one of the country's largest cities, politicians sought every vote, including the Black vote. This became particularly relevant as the Republicans were losing their stronghold and because Shelton was a Democratic organizer while Lyons was a Republican, according to StaggerLee.com.
The murder received significant exposure and political scrutiny, resulting in a trial with a hung jury after Shelton hired one of the state's most prominent lawyers.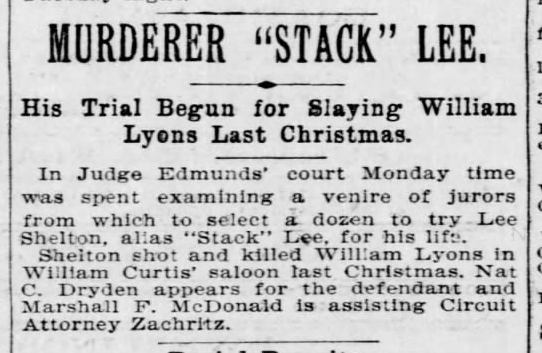 Shelton's case was retried in 1897, leading to his conviction for murder and sentencing to the notorious Jefferson Penitentiary in Jefferson City, Missouri. The first printed lyrics referencing the Stagger Lee murder emerged around 1902 or 1903, depending on the source.
In 1909, then-Missouri governor Joseph Wingate Folk granted Shelton a full pardon on Thanksgiving Day. By this time, folk versions of the Stagger Lee song were spreading across the South.
The following year, legendary Library of Congress musicologist John Lomax received a partial transcription of what was referred to as "The Ballad of Stagalee" from a woman in Texas. She claimed that "this song is sung by the Negroes on the levee while they are loading and unloading the river freighters."
In 1911, Shelton broke into a man's home, murdered him, and was once again imprisoned. But in 1912, he received another pardon, apparently due to political pressure. However, before he could be released, the infamous Stack-O-Lee succumbed to tuberculosis in prison.
In the 1920s, various versions of "Stagger Lee" began to be recorded.
The song was first recorded in 1923 by Waring's Pennsylvanians, titled "Stack O' Lee Blues."
Madam Gertrude "Ma" Rainey and her band, including a young Louis Armstrong on cornet, recorded another rendition entitled "Stack O'Lee Blues" in 1925.
Duke Ellington recorded a version in 1927, and in 1928, Mississippi John Hurt recorded what is perhaps the most famous and definitive rendition of Stagger Lee's song in history, "Stack O' Lee."
Police officer, how can it be?

You can 'rest everybody but cruel Stack O' Lee

That bad man, oh, cruel Stack O' Lee

Billy de Lyon told Stack O' Lee, "Please don't take my life,
I got two little babies, and a darlin' lovin' wife"
That bad man, oh, cruel Stack O' Lee

"What I care about you little babies, your darlin' lovin' wife?
You done stole my Stetson hat, I'm bound to take your life"

That bad man, cruel Stack O' Lee

…with the forty-four

When I spied Billy de Lyon, he was lyin' down on the floor

That bad man, oh cruel Stack O' Lee

"Gentleman's of the jury, what do you think of that?

Stack O' Lee killed Billy de Lyon about a five-dollar Stetson hat"

That bad man, oh, cruel Stack O' Lee

And all they gathered, hands way up high,
at twelve o'clock they killed him, they's all glad to see him die
That bad man, oh, cruel Stack O' Lee

Mississippi John Hurt – Stack O' Lee (1928)
In 1931, folk legend Woody Guthrie sang a rendition of the song, likely adapted from John Hurt's version, as the lyrics bear a striking similarity (often written as Stackolee or Stagolee.)
The song continued to captivate singers and poets across generations until 1958 when Lloyd Price released a version simply titled "Stagger Lee." The song skyrocketed in popularity, reaching #1 on the Billboard Pop Charts. This success spawned dozens and eventually hundreds of recorded interpretations of Stagger Lee's story.
In the 1960s, when Mississippi John Hurt was rediscovered, he often performed a folk-style rendition called "Stagolee," featuring Stag and, interestingly enough, Jesse James robbing a card game in a coal mine.
The ballad of Stagger Lee even made it to the Caribbean, where Bahamian musician Eugene "Geno D" Davis recorded a rendition of the tale, delivering Lloyd Price's timeless lyrics, Bahamian-style.
Stagger Lee's narrative has been immortalized through various artistic mediums, including movies, poems, and even an award-winning graphic novel. Its enduring appeal has transcended boundaries, captivating audiences across generations and spanning an impressive array of musical genres, ranging from blues, folk, rock, and bluegrass to punk, heavy metal, disco, country, soul, Hawaiian, and Bahamian rake n' scrape. For over a century, Stagger Lee's tale has indelibly imprinted itself upon the collective imagination of people around the globe.
For this writer, delving into the multitude of renditions has provided a firsthand glimpse into the evolution of music, storytelling, and culture. Each interpretation offers a unique lens through which to appreciate the ever-evolving nature of artistic expression. As for my favorite version? Stay tuned.